China Growing Pharmaceutical Enterprises Development Forum -- A New Starting Point for Strategic Cooperation
Read:5342
2021-08-13
From November 14 to 16, 2020, some members of SINOWAY Natural Pharmaceuticals and the retail business teams of its subsidiaries went to Changsha to attend the 15th China Growing Pharmaceutical Enterprises Development Forum themed by "Dual Circulation, Growth Power", which was organized by China Medical Pharmaceutical Material Association and Changsha Municipal People's Government, and co-organized by Guilu Pharmaceutical, Hongjitang Pharmaceutical, KunMing SINOWAY Natural Pharmaceutical and Kun Zhong Yao, etc.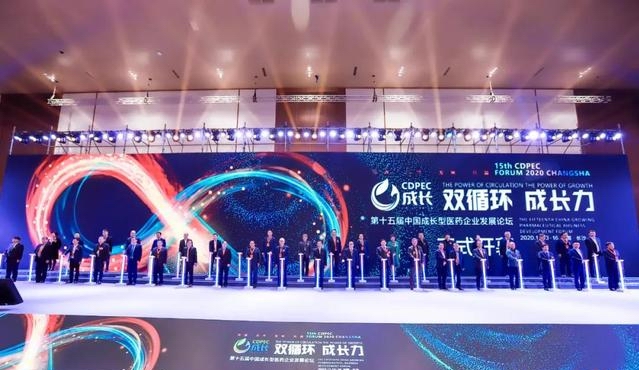 On behalf of the company, Sun Hongbin, Vice President of the company, attended the event as the kick-off guest of the opening ceremony of the forum. The 4-day forum with experts from diverse sectors was to explore the way China can go in the context of the new dual circulation paradigm to bring its pharmaceutical industry out of the stalemate and up to a new height, so as to promote the connectivity between and the integration of the domestic and international markets. More than 6,000 top experts, entrepreneurs and industry elites from home and abroad gathered together to track the industry development hotspots, share new thinking, new models and new technologies for the development of the pharmaceutical industry, and discuss the innovative development of China's pharmaceutical industry in the new phase with changing environmental conditions.
Kunming SINOWAY Natural Pharmaceuticals Co., Ltd., as a co-organizer of this forum, attended the sub-forum of the annual meeting of the chain drugstores branch with a number of chain drugstores under the theme of "Alliance to Re-Start". Together, they explored the way to develop new business forms of chain drugstores and innovative industrial methods that can meet the new needs of customers from three dimensions: product empowerment, service empowerment and technology empowerment, and can promote the comprehensive interconnection and positive interaction among retail enterprises, brand industries, capital, new technologies, new models and new products under the new trend.
Meanwhile, at the 15th anniversary celebration dinner of the forum, the company reached strategic cooperation with a number of well-known pharmaceutical industrial and commercial enterprises. SINOWAY will integrate high-quality product resources and service resources, transfer retail channels to the grassroots, and collaborate further with industrial and commercial enterprises to support its partners' growth and achieve a win-win future.